Featuring COSMIC BURLESQUE By: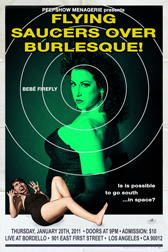 BEBE' FIREFLY
Miss Firefly lists her favorite things as drinking wine, performing burlesque, and "watching horror, comedy, yoga." We're not sure if those last three things are supposed to go together like that, but you think of it, shouldn't they? Who couldn't imagine the fun in watching the comedy and horror of yoga while sitting back, drinking wine, and being inspired for your next burlesque act?
http://www.facebook.com/profile.php?id=100000888395274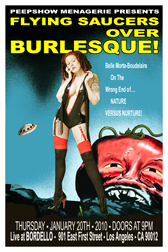 BELLE-MORTE BAUDELAIRE
Belle Morte Baudelaire was born on the same day as the poet Baudelaire, which she finds amusing. Being severely bi-coastal, she performs at various clubs in LA and NYC, models for latex/corset clothing companies and select photographers, and harkens back to the old days of large feather fans, which she makes herself, and fine costumes/corsets, custom work from various designers. She is also a milliner. She has performed in such shows as the Monday Night Tease and Pinchbottom Burlesque.
http://www.facebook.com/belle.baudelaire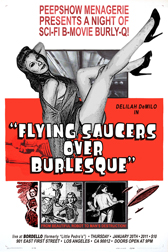 DELILAH DeMILO
Delilah DeMilo seems to prefer to remain a mystery. What we know of her is that she loves working in a variety of costumes from Lucille Ball to Jessica Rabbit to a Pirate to who knows what else. She performs every Friday at Bordello for their weekly show and has worked on and off with Peepshow producers Scarlett and Chris over the last several years in various shows. She has also performed for Shimmy & Shake, The Monday Night Tease, and The Dolls Of Fox.
http://www.facebook.com/profile.php?id=100001220148396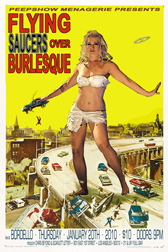 DIA BLOW
Your favorite fallen angel from the depths of hell comes Miss Dia Blow, a favorite of Satan's roller skating, hellfire spitting vixens! Don't let that sweet smile fool you, she will steal your soul just as soon as kiss you! Dia is known to wear a lot of hats; helmets, top hats, fedoras, and of course her devil horns. She also wears a lot of shoes; skates, heels, chucks, spurs, folded up newspapers, and toe socks. She also wears a backpack with a towel in it and asks us not to question it. Dia is a former member of the Angel City Derby Girls. If you ever get lucky enough to go skating with her, be sure to to wear more protection than your standard knee and elbow pads because if you get in her way, you surely find yourself under her wheels. Since skating her way into the burlesque scene, she has performed at the Monday Night Tease, Viva Las Vegas, Pirate Burlesque, and various others.
http://www.myspace.com/diablowburlesque
DOLLY DANGER
Dolly Danger is an actress as well as a writer and enjoys living the Burlesque and Vaudeville lifestyle. She has toured Europe with the popular Stanley Kubrick themed burlesque show called Kubrilesque. She has starred in a horror movie starring Steve Guttenburg and James Duval. We're pretty sure that if Mr. Guttenburg's character in Police Academy were real, he'd be a big fan of Dolly and her burlesque performances.
http://www.facebook.com/profile.php?id=100000578574053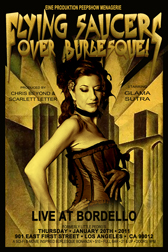 GLAMA SUTRA
Our favorite Los Angeles hedonist, Glama Sutra, considers herself to be a drag queen trapped in a straight woman's body who feels that there's no situation can't be made better by the proper application of a few feathers and rhinestones. She last performed in our 2010 Merrie Maladies show and recently performed an amazing act at the Monday Night Tease and plans to bring her fresh energy and talents back to our stage for a night of Out-Of-This-World Burlesque.
Glama Sutra on Facebook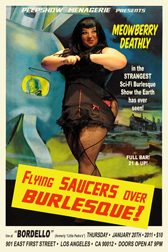 MEOWBERRY DEATHLY
Meowberry loves to be crafty and is full of love. She is a burlesque performer who loves to do makeup and also loves anything to do with trannys, stockings, shoes, corsets, eyelashes, bettie page, her momma, and anything girlie! She additionally loves her kitty emily and her two lovely ferrets Sid and Nancy. She plans to bring her love to you on stage as part of our third and final Televangelesque burlesque show.
Meowberry Deathly on Facebook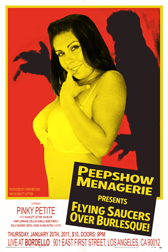 PINKY PETITE
The sweet and petite treat known as Miss Pinky Petite hails originally from Boston where she was a member of THE BOSTON BABYDOLLS and even performed with them at the 2006 Miss Exotic World pageant. In 2007 she moved to Los Angeles and quickly found a place near the beach and a place in the Los Angeles Burlesque Scene. She has performed at VICTORY VARIETY HOUR, SHIMMY & SHAKE, PIRATE BURLESQUE PRESENTS, and the MONDAY NIGHT TEASE. She was also the coverstar of the first "Chris Beyond's Bootleg Stag Party and has appeared on the cover of No-Fi "Magazine"
http://www.myspace.com/pinkypetite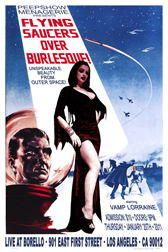 VAMP LORRAINE
Vamp Lorraine came to this mortal coil from the union between Vampira and Bela Lugosi. When she is not lurking in the cemetary with her pet Tarantula Lydia, she can be found shopping for shoes, tight-lacing corsets or tantalizing Los Angeles burlesque audiences. You may have seen her perform at Bordello before with Courtney Cruz and in our shows such as Merrie Maladies and Mad Monster Burlesque Pajama Party.
http://www.facebook.com/vamplorraine
Featuring Live Music from: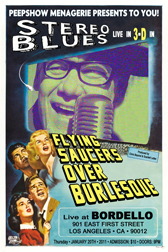 STEREO BLUES
Bassist Tony Marsico has lent his bass lines to everyone from rock icons Bob Dylan, Neil Young, Roger Daltrey, Marianne Faithfull to country legend Willie Nelson, not to mention his many burlesque gigs with Peepshow Menagerie and Shimmy & Shake with his band THE DEL REYS. This will be the first ever STEREO BLUES concert and we couldn't be prouder to feature them on our stage!
http://www.facebook.com/pages/Stereo-Blues/184604354891605
Hosted by: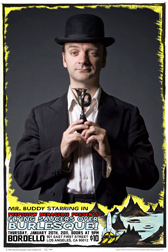 MR. BUDDY
The latter half of Mr. Snapper & Mr. Buddy who do their part quite well to keep Vaudeville alive in the modern burlesque circuit. Mr. Snapper & Mr. Buddy live to delight audiences and get paid and for the first time at Peepshow Menagerie Br. Buddy will be hosting the show from his personal silver ship in the sky known as "Spaceship Bordello". When he's not gracing our stage, Mr. Buddy has previously hosted the Monday Night Tease and you can often find him onstage at one of Hollywood's many theatres acting in plays.
http://www.myspace.com/snapperbuddy


Guest-Starring: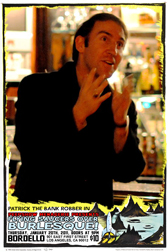 PATRICK THE BANK ROBBER
Since the beginning of Peepshow Menagerie, he has always occupied a corner of the upper deck of Bordello; well dressed, sharply combed, and watching silently from above. We eventually discovered that his name is Patrick The Bank Robber and when he isn't a burlesque enthusiast, he can often be found on stage reciting Shakespeare, traveling across the country, or just simply robbing banks. After being made at various shows across town, he eventually found himself hosting for shows like Ragdolls Burlesque and the Monday Night Tease as well as producing his own show called Raymond Burl Esq. & The Family Ballyhoo.
http://www.myspace.com/patrickthebankrobber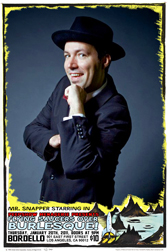 MR. SNAPPER
Mr Snapper is a creative generalist, an artistic jack-of-all trades. Normally seen on stage as one half of the vaudeville comedy and music duo Mr. Snapper and Mr. Buddy, Mr. Snapper has also hosted the Monday Night Tease in Hollywood and even co-produced our last show in Scarlett Letter's absence while on tour in Europe. When not crooning or laffing it up onstage in the burlesque scene, Mr. Snapper find his home on other stages, writing and directing plays as a founding member of Theatre Unleashed who recently celebrated their one year anniversary. His play "Pin-Up Girls" about burlesque dancers in the 1940's was a financial and critical success and his latest work "Tracing Sunny" recently opened in Los Angeles to rave reviews and made one reviewer laugh so hard, he almost died right there in the theatre. (True story!) One of our favorite Hosts (and sometime boylesque performer), we are always happy when he's on our stage.
http://www.myspace.com/scrapsflippy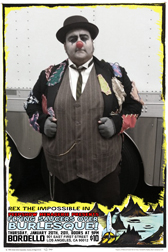 REX THE IMPOSSIBLE
Rex The Impossible has hosted and made several appearances in Peepshow Menagerie including co-hosting The Road To Burlesque and Watching The Detectives as well as appearances in The Burlesque Gong Show, Beach Blanket Burlesque and Burlesqueland. He has also performed in various comedy clubs and has hosted a couple other burlesque shows including The Monday Night Tease and a gig at The Derby.
http://www.myspace.com/therevofcomedy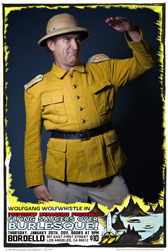 WOLFGANG WOLFWHISTLE
You may have seen Wolfgang pop up in a few of our shows such as playing "Frank Booth" in 2010's production of our annual Davild Lynch themed burlesque show called Beneath The Surface and in a cameo role in our holiday burlesque play A Burlesque Christmas Carol. He has also been performing at The Monday Night Tease. When he's not on stage or in the audience, known for dressing up in period costumes, he's on the battlefield as an official war re-enactor who has taken part in staged battles all around the world.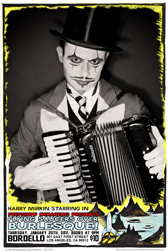 HARRY MIRKIN
Harry Mirkin made his boy-lesque debut at The Bevy not that long ago, but is quite familar with the stage as a member of his bands The Craven, Bob, and Popular Girl, the last of which he is in with Peepshow producer Chris Beyond.
http://www.facebook.com/profile.php?id=100001101723232


Produced by: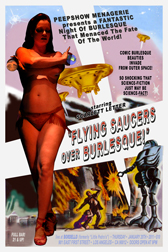 Performing Burlesque and Co-Produced by SCARLETT LETTER
Scarlett Letter is not only the co-producer of Peepshow Menagerie and Naked Girls Reading Los Angeles, but is the producer of The Letter Follies and Dr Sketchy's Anti-Art School Ventura. She has performed at Exotic World in 2007 and 2008 and was winner of "Most Classic" at the 2007 Boston Burlesque Exposition and most recently won "Best Solo Performance" and The Legends' Award at the 2010 Boston Burlesque Exposition. She has performed in more countries than you've been to. She's got "four feet of red hair and miles of bad intentions" and dances her life away every chance she gets, be it pole-go, go-go, goth clubs or Burlesque stages. Recently she was able to perform at a private show for director Quentin Tarantino who had never seen a real live fan dancer before in person and raved about her performance to her for over 5 minutes.
http://stagelightstudios.com/the_little_red_schoolhouse_of_burlesque_workshop.html
http://www.myspace.com/apriest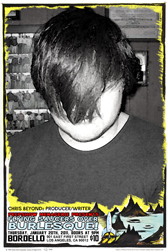 Co-Produced and Written by CHRIS BEYOND
Chris Beyond has been a part of the L.A. independent music scene since the early nineties and has really had his hands full since then. He is the creator of No-Fi "Magazine" in 1996 and No-Fi "Radio" in 2002, both of which are still in production today. He has appeared on the television shows SEXBYTES on HBO and on DEADLINE on HDnet. He's been an in-studio guest on the radio show LOVELINE, was interviewed on Playstation.com, and has been published in Ben Is Dead and Harper's magazines. He has produced several concerts around the Los Angeles area as well as been a member of the bands EAR BEYOND and POPULAR GIRL. He is also a designer whose works have appeared in albums, magazines, newspapers, flyers, and DVDs (including the burlesque film Broad Daylight directed by JMM). He is a prominent burlesque and pin-up photographer in the national burlesque scene and a staffmember of the Burlesque Hall Of Fame/Exotic World. He has hosted shows for Shimmy & Shake, Dolls Of Fox, Monday Night Tease, & more, and is co-host of The Burlesque Podcast with Lili VonSchtupp which recently began production on it's second season of shows which are available for free on iTunes. By the way, if you are lucky, you just MIGHT win a copy of his new "Chris Beyond's Bootleg Stag Party Volume 2" at this show! Just be prepared to be pulled on stage for the chance.
http://www.myspace.com/beyondphotography
http://www.facebook.com/chrisbeyond


Thank You's
Thank you to the staff of Bordello, Wacko, X-Large, Y-Que, Pop Killer, Golden Apple Comics, Meltdown Comics, Secret Headquarters, The Monday Night Tease, Facebook, and all of our fans and friends who trust us to do some pretty crazy shows and keep coming back and helping us out! We look forward to bringing you some of our biggest shows yet in 2011!
Show Photos! (Live photos will be updated after the show.)



Click on each image to see a BIGGER version!
PAST SHOW REVIEWS!

GUEST OF A GUEST shares a very positive and humorous review of Burlesqueland 2010.

THE GLOSS suggests visiting Burlesqueland over Iceland.

THE L.A. WEEKLY joins the "Burlesqueland!!" cast at at the park for Burlesque Day At D-Land.

THE L.A. WEEKLY visits Peepshow Menagerie "Burlesqueland!!"

THE L.A. WEEKLY visits Peepshow Menagerie as their featured slideshow!

THE GUARDIAN U.K.'s very positive mention about Peepshow Menagerie in this article about David Lynch!

HOLLYWIRE.COM's review of Peepshow Menagerie: Beneath The Surface!

A review of Peepshow Menagerie: Beneath The Surface on YELP.COM!

Jack Dagger's experience at Peepshow Menagerie: Burlesqueland!