Featuring our Burlesque-ateers: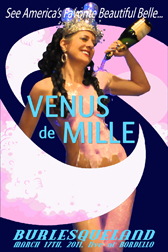 VENUS DeMILLE
The Deity Of Desire is reborn! She has come to Earth as Burlesque Artist Venus De Mille, crowned "Legend In The Making" at the Miss Exotic World 2005 Pageant. Mere mortals are held spellbound by her heavenly body and dazzling performances which combine the glamour of Hollywood with the temptation of striptease and the bluster of a good old bump 'n'grind earning her the nickname "Weapon of Man's Destruction". Emerging from a mad scientist's laboratory (as opposed to the usual half shell), Venus adapted her lofty self to portraying a range of earthy vixens. Her accordion skills are unparalleled, and whether she's serenading the audience while shedding flimsy garments, rappelling from the rafters, or transforming before your very eyes into a ball of flame, she always envelops the crowd in preternaturally supreme theatrical experience, continuously reducing human spectators to helpless piles of rubble with a mere glance. The Divine One's own costume designs were so spectacular, that though he preferred to see her unclothed, Zeus himself was inspired to bestow upon her a Master's Degree in Theater. But Venus can be benevolent as well as meddlesome. In addition to costuming many of your favorite burlesque starlets, she has been sharing her costuming expertise with other mortals for several years now, teaching Burlesque Costume Classes at Costume College (Van Nuys), Stiletto (Redlands), and Tease-O-Rama (San Francisco.) She also donates her time and efforts to various local charities. Venus has graced the stage at such diverse events as The Velvet Hammer Burlesque, Tease-O-rama, The Miss Exotic World Pageant, The Victory Variety Hour, Margaret Cho's Sensuous Woman, and many others. Venus, having once been rendered tragically armless, knows the importance of having one's limbs properly clothed. Thus, she has unveiled her own line of luxuriously embellished gloves under the name: "Gloves By Venus." Don't miss her act at this show that got a huge extended standing ovation at the 2010 Burlesque Hall Of Fame in Las Vegas!
http://www.venusdemille.net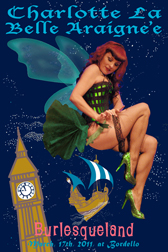 CHARLOTTE LA BELLE ARAIGNE'E
Charlotte La Belle Araigne'e is one of the pioneers of the new wave of burlesque who has been performing since the late 80's. She produces a show called Buckingham Burlesque. She is always a favorite in our shows having performed in our David Lynch themed Beneath The Surface and our Beatles themed Please Tease Me. She designs and creates the majority of her hats, corsets and costumes. She has performed on the main stage at Exotic World (aka "The Burlesque Hall Of Fame"), Lucha VaVoom, Ink & Iron, has opened for Dita Von Teese at The Orpheum Theatre, and has performed at many of the best burlesque stages all over the world. She is a great performer and friend of the show and we are always very happy to have her back.
Charlotte La Belle Araigne'e on Facebook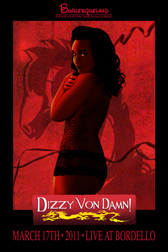 DIZZY VON DAMN!
Dizzy Von Damn! is an experiment gone horribly awry- she's what happens when you mix the genes of the lovely Bettie Page with those of kitschy-eccentric Liberace; she's proof that science can be sexy...and weird. As Miss Viva Las Vegas 2008, she can be seen in the 2010 LA Burlesque Calendar and she has performed across the country- not to mention performing regularly at Peepshow Menagerie, Monday Night Tease, and producing her own show, Uncommon Burlesque at the Commonwealth Lounge. She enjoys pineapples and space, and believes that the truth is out there.
http://www.dizzyvondamn.com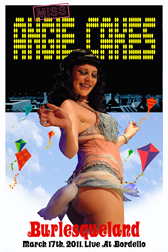 MISS ANGIE CAKES
Miss Angie Cakes has been performing in night clubs from East to West Coast since the late 1990's. By day, she's a Fashion Designer for a local clothing company in Los Angeles. At night, the stage is her second home. She also makes her own costumes and accessories and will be launching her very own line soon. This little cookie loves all things sweet, (especially cake!). She's a cupcake cutie who spreads her frosting where ever she goes. With just 2 cups of sugar, a little spice, & a pinch of glitter, she'll bake up the hottest show in town!
http://www.myspace.com/missangiecakes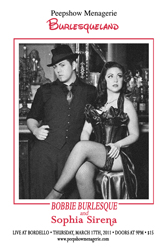 BOBBIE BURLESQUE & SOPHIA SIRENA
Bobbie Burlesque is a BOYLESQUE performer, Burlesque Show Producer, and a Model. Beginning his burlesque adventures in 2002, he has grown to become an international boylesque performer and national burlesque show producer. Bobbie has performed in such shows as Tease-O-Rama 2007 & 2008, The Southwest Burlesque Showcase, Chaz Royal's Burlesque Goes North, Little Minskys, Fishnet Follies, and countless shows in Hollywood, California, where he is based. He is also a producer of The Hollywood Burlesque Tour, Broadway Follies, Fantasy: Masquerade, and the Tim Burton Burlesque Show. More than just a Burlesque Producer and Boylesque Performer, he is also a costume designer and has his own line of stylish neckties, as well as a photographer, capturing more than just your image with a push of a button. Bobbie keeps his days and nights occupied by reading vampire novels, sketching new costume designs, painting his nails black, and plotting his next visual masterpiece: whether it be a fantastic new show, a grand new performance act, or even a unique photo series designed to captivate your soul.
http://www.bobbieburlesque.com

Sophia Sirena is a lovely Hollywood burlesque performer with the aspirations and desire to become a stunning showgirl. Her worship for the bright lights of the stage and old Hollywood glamour began at a very young age, performing in musicals and watching classic movies starring the iconic sex symbols of years past. After a long stretch of time striving to be a burlesque babe, she was fortunate enough to meet the marvelous Bobbie Burlesque who took her "under his wing" and revealed to her the brilliant, sparkle-tastic, wonderful world of burlesque! Sophia Dreams of being an international burlesque star, perfecting the art of the tease with her playfulness, and combining her innate ability to allure with a transparent vulnerability.
http://www.sophiasirena.com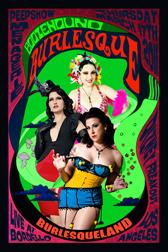 BOOZEHOUND BURLESQUE
Boozehound Burlesque is the creation of Miss Bebe Firefly and we are very happy to have them perform in a 'Fantasia' inspired number for our show.

Bebe Firefly lists her favorite things as drinking wine, performing burlesque, and "watching horror, comedy, yoga." We're not sure if those last three things are supposed to go together like that, but you think of it, shouldn't they? Who couldn't imagine the fun in watching the comedy and horror of yoga while sitting back, drinking wine, and being inspired for your next burlesque act?
Bebe Firefly on Facebook
Iza la Vamp is known as the "Lost Ziegfeld Girl!" She was a chorus girl on her way to center stage until a freak accident caused her to body to be frozen. The details are sketchy as records of spontaneous freezings were not as well kept as they are today. Lucky for you and the art of burlesque, she is now defrosted and ready to perform. She is finding herself in a different time with different music and decades of history to catch up with, but she seems to be taking it in stride and taking the stage by force. Please join her on an adventure in recreating herself as a Burlesque starlet.
http://www.izalavamp.com/
Dolly Roger is the newest member of the troupe and a recent graduate of the Striptease Symposium. She has performed at the Monday Night Tease and is one heck of a make-up artist as well. We look forward to seeing what she'll be working on next and hope to have her in more shows.
Dolly Roger on Facebook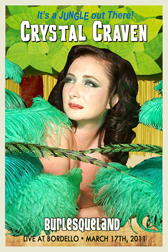 CRYSTAL CRAVEN
A student of Bobbie Burlesque and a newer performer to the scene, Crystal Craven has already racked up some impressive shows, having performed at the Southwest Burlesque Festival, Tim Burton Burlesque, the Monday Night Tease and more. We look forward to seeing her perform her slinky and hypnotic number on our stage and can't wait to see what else she has up her sleeve for future performances.
Crystal Craven on Facebook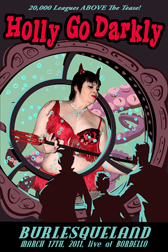 HOLLY GO DARKLY
It's been said they saved William Castle's brain and we know it to be true: One stormy night in the basement of the haunted honkytonk on the edge of town, they put that brain into a girl made from bits of showgirls, flappers, dames, dolls, and molls. Fed with electricity and a steady diet horror films, musicals, and the souls of men that girl became...Holly Go Darkly. Apart from a couple of our other shows, he has performed at the Monday Night Tease and with Sealed With A Kiss and we are happy to have her back on Peepshow Menagerie's stage.
Holly Go Darkly on Facebook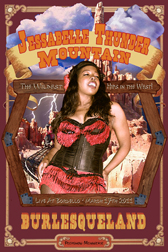 JESSABELLE THUNDER
At a recent show for Red Snapper's Sassy Classy Review, Fine Arts L.A. said of her, "Ms. Jessabelle Thunder, who's David Lynch-esque number made me realize the hypnotizing effect of such dances." Jessabelle loves the art of dance and was a fan of burlesque before she decided to give it a try herself on stage and the audiences have been loving it since she did. She has performed with us before and has also performed at the MONDAY NIGHT TEASE and at THE BEVY, among others. If you are prospecting for true Burlesque Gold, look no further than our own Jessabelle Thunder.
Miss Josie Bunnie on Facebook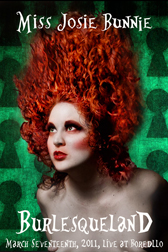 MISS JOSIE BUNNIE
She's got "Curves, Curls and Baby Blue Eyes!". Josie Bunnie is a burlesque performer, occasional nude model, and confirmed nudist who loves being creative and artistic. She has performed at El Cid with the Victory Variety Hour & Schmutzig, 3 Clubs with the Monday Night Tease, Mr T's Bowl and The Scene club with Burlesque-a-go-go, in the live Camp Burlesque show, and other various shows. She is a student of Kitten De Ville, Augusta (AKA Penny Starr Jr.), Jewel Of Denial, Lux La Croix and Vixen Violette. She is a very bubbly person who likes to socialize and meet new people. She knows what she's got and knows how to use it, as they say. She also says she loves being in front of a camera and playing with her kitty cats.
Miss Josie Bunnie on Facebook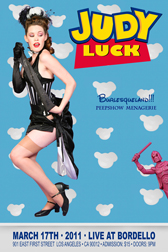 JUDY LUCK
Known as the "Charming Darling of Burlesque", Miss Judy Luck is both a Pin-Up model and burlesque performer who has performed at various shows around L.A. including Uncommon Burlesque, The Whistle Bait, and the Whiskey-A-Go-Go. She is a trained ballet and jazz dancer and happens to be dancer for the band The Hula Girls and has toured around the country with them. Watch this 'toy cowgirl' shake it at our 'Dizney' inspired show on March 17th!
Judy Luck on Facebook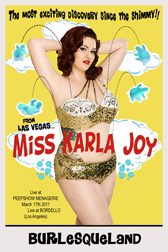 MISS KARLA JOY
Miss Karla Joy is an accomplished Burlesque performer who is driven by an incredible passion for self-expression. Her performances are often noted for their unique blend of comedy, sensuality, and fire. She has performed all over her home town of Las Vegas. Her first performance was for the Miss All Tease No Sleaze Pageant in 2008 where she took home the crown and started her career in the world of Burlesque! Karla has also appeared in print including the Review Journal, Las Vegas Weekly, and multiple on-line publications. See her perform at Peepshow Menagerie's Burlesqueland and see why she is called "The Joy Of Your Life"!.
http://misskarlajoy.com
Featuring Baggy Pants Comedy from: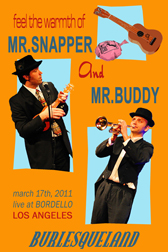 MR. SNAPPPER & MR. BUDDY
Helping to keep Vaudeville alive in the modern burlesque circuit, the chatty and singing ukulele playing Mr Snapper and ever-silent but deadly Mr. Buddy bring their years of stage experience to our own stage to entertain all of you looking in at us through our invisible monkey bars Multi-instrumentalist Mr. Snapper and comedy-savant Mr. Buddy have entertained audiences from Hollywood to...North Hollywood. Whether an old-fashioned song and dance, or a comedy variety act, Mr. Snapper & Mr. Buddy live to delight audiences and get paid. And they just might be cooking up something special for this particular show too so don't miss it!
Mr. Snapper & Mr. Buddy on Facebook
Hosted by: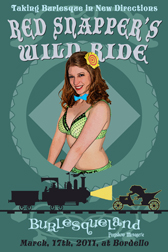 Performance and Hosted by RED SNAPPER
"Sass, class and a black girl's ass" is only one of many ways to describe this performer. She brings with her a very impressive pedigree. She has studied pole dancing with Aphrodite Strip-N-Pole for two years. She's had the opportunity to study burlesque with several incredible performers: Lux LaCroix (Bump and Grind 101), Miss Indigo Blue (Academy of Burlesque), Jo Boobs (New York School of Burlesque), Jewel of Denial and Penny Starr, Jr. (Striptease Symposium), Scarlett Letter (Little Red Schoolhouse of Burlesque) as well as Lili VonSchtupp, Vanity Flair, Tigger!, Desire' D'Amour, Princess Farhana, and burlesque legends Wild Cherry and April March. Last year she starred in the play "Pin-Up Girls" (directed by Andrew Moore) in a role for which the L.A. Weekly called her "Robust And Sassy" and recently directed a play called "Tracing Sunny" for her theatre company Theatre Unleashed. She co-produced two Peepshow Menagerie shows during Scarlett Letter's absence (who was on a European tour) and has performed in more of our shows than any other performer, besides Scarlett. She is also the newest teacher with Striptease Symposium. Before that she has taught pole and chair dancing with Aphrodite Strip-N-Pole in West Hollywood, as well as coached a number of actresses in the art of striptease and she's even held a tassel twirling clinic for men.
http://www.redsnapperburlesque.com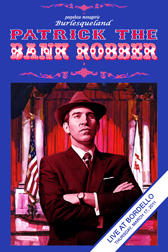 PATRICK THE BANK ROBBER
Since the beginning of Peepshow Menagerie, he has always occupied a corner of the upper deck of Bordello; well dressed, sharply combed, and watching silently from above. We eventually discovered that his name is Patrick The Bank Robber and when he isn't a burlesque enthusiast, he can often be found on stage reciting Shakespeare, traveling across the country, or just simply robbing banks. After being made at various shows across town, he eventually found himself hosting for shows like Ragdolls Burlesque and the Monday Night Tease as well as producing his own show called Raymond Burl Esq. & The Family Ballyhoo.
http://www.myspace.com/patrickthebankrobber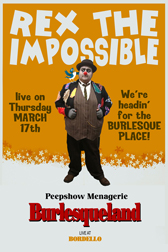 REX THE IMPOSSIBLE
Rex The Impossible has hosted and made several appearances in Peepshow Menagerie including co-hosting The Road To Burlesque and Watching The Detectives as well as appearances in The Burlesque Gong Show, Beach Blanket Burlesque and Burlesqueland. He has also performed in various comedy clubs and has hosted a couple other burlesque shows including The Monday Night Tease and a gig at The Derby.
http://www.myspace.com/therevofcomedy
Produced by: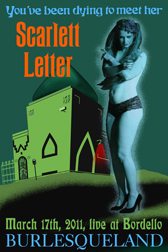 Performance and Co-Produced by SCARLETT LETTER
Scarlett Letter is not only the co-producer of Peepshow Menagerie and Naked Girls Reading Los Angeles, but is the producer of The Letter Follies and Dr Sketchy's Anti-Art School Ventura. She has performed at Exotic World in 2007 and 2008 and was winner of "Most Classic" at the 2007 Boston Burlesque Exposition and most recently won "Best Solo Performance" and The Legends' Award at the 2010 Boston Burlesque Exposition. She has performed in more countries than you've been to. She's got "four feet of red hair and miles of bad intentions" and dances her life away every chance she gets, be it pole-go, go-go, goth clubs or Burlesque stages. Recently she was able to perform at a private show for director Quentin Tarantino who had never seen a real live fan dancer before in person and raved about her performance to her for over 5 minutes.
http://stagelightstudios.com/the_little_red_schoolhouse_of_burlesque_workshop.html
http://www.myspace.com/apriest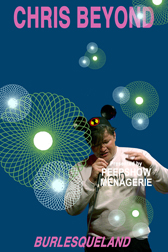 Co-Produced by CHRIS BEYOND
Chris Beyond has been a part of the L.A. independent music scene since the early nineties and has really had his hands full since then. He is the creator of No-Fi "Magazine" in 1996 and No-Fi "Radio" in 2002, both of which are still in production today. He has appeared on the television shows SEXBYTES on HBO and on DEADLINE on HDnet. He's been an in-studio guest on the radio show LOVELINE, was interviewed on Playstation.com, and has been published in Ben Is Dead and Harper's magazines. He has produced several concerts around the Los Angeles area as well as been a member of the bands EAR BEYOND and POPULAR GIRL. He is also a designer whose works have appeared in albums, magazines, newspapers, flyers, and DVDs (including the burlesque film Broad Daylight directed by JMM). He is a prominent burlesque and pin-up photographer in the national burlesque scene and a staffmember of the Burlesque Hall Of Fame/Exotic World. He has hosted shows for Shimmy & Shake, Dolls Of Fox, Monday Night Tease, & more, and is co-host of The Burlesque Podcast with Lili VonSchtupp which recently began production on it's second season of shows which are available for free on iTunes. By the way, if you are lucky, you just MIGHT win a copy of his new "Chris Beyond's Bootleg Stag Party Volume 2" at this show! Just be prepared to be pulled on stage for the chance.
http://www.chrisbeyond.com
http://www.facebook.com/chrisbeyond


Thank You's
Sean and Tim, Garry Ventura, Vlad The Retailer. Wacko, Sophya St. James, X-Large, Y-Que, Pop Killer, Golden Apple Comics, Meltdown Comics, Secret Headquarters, The Monday Night Tease, Facebook, and all of our fans and friends who trust us to do some pretty crazy shows and keep coming back and helping us out! We look forward to continuing to bring you even more of our biggest shows yet in 2011!
Show Photos! (Live photos will be updated after the show.)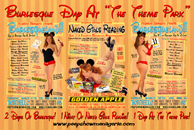 Click on each image to see a BIGGER version!
PAST SHOW REVIEWS!

A wonderful article and review from the national CAMPUS CIRCLE newspaper.

GUEST OF A GUEST shares a very positive and humorous review of Burlesqueland 2010.

THE GLOSS suggests visiting Burlesqueland over Iceland.

THE L.A. WEEKLY joins the "Burlesqueland!!" cast at at the park for Burlesque Day At D-Land.

THE L.A. WEEKLY visits Peepshow Menagerie "Burlesqueland!!"

THE L.A. WEEKLY visits Peepshow Menagerie as their featured slideshow!

THE GUARDIAN U.K.'s very positive mention about Peepshow Menagerie in this article about David Lynch!

HOLLYWIRE.COM's review of Peepshow Menagerie: Beneath The Surface!

A review of Peepshow Menagerie: Beneath The Surface on YELP.COM!

Jack Dagger's experience at Peepshow Menagerie: Burlesqueland!